Most people feel that giving back is important and it can often feel just as good to give something to someone as it does to receive a gift. This is one reason why blood donation can be such a rewarding experience. Many long-term blood donors find the experience rewarding for other reasons, as well.

Making the choice to donate blood over a longer period of time confers obvious benefits, such as regular financial compensation. The donation experience also becomes enjoyable as an individual donor becomes more familiar with the friendly faces of the staff providing their care; this, of course, happens gradually, appointment by appointment.

And, of course, there is the important knowledge each donor takes home with them after every appointment that their blood donation will help another person—or, sometimes, many people. Read on for the numerous ways in which donating blood can yield long-term rewards:

Financial Compensation for Your Donation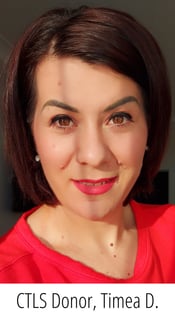 Some centres, such as CTLS, do compensate donors financially. This isn't true of all organisations, but depending on where you choose to donate, it can be one of the long-term benefits.

"I hope I can help others for a long time to come," says Timea D., of London, England. Timea has been donating blood for about three years. "I didn't have a job when I arrived in London because of my language barrier, so I decided to donate blood." The compensation received for regular donations can help offset the cost of things you deem important.
Even after the pandemic hit and lockdowns were implemented, Timea continued to donate blood, as she finds it to be a rewarding experience. "It feels good that I belong somewhere! I am always happy when I can go for my next appointment."

Familiar, Friendly Faces Providing Expert Care

Blood collections are a personal encounter between donors and staff, so it's vital to have a friendly, caring team that makes you feel safe and comfortable in their care. When coupled with the highest professionalism, this is a recipe for donors to feel valued and nurtured at their appointments—which grows into an ongoing, positive experience in the long run. Donors who build a relationship with staff describe it as a main reason for continuing to return.
Timea recalls, "The first impression at the clinic was very good. Everyone was always kind and smiling.."

When familiarity and friendliness are paired with high standards for professionalism and efficiency, the interpersonal connection donors experience at their appointments is often enhanced.

Knowing Your Donation Has an Impact

The human drive to help other people in need is almost always a main reason that motivates people to donate blood, be it a one-time donation or longer-term giving. Most people know what it feels like to need help and are only too glad to give back when and how they can. While many donations will help a single individual in a moment of crisis, donating blood for research can also have a more widespread and longer-term impact that helps countless people over time.

Donors at CTLS are made aware of the fact that their donations aid scientific research and medical progress that will eventually help benefit the lives of many people. An example of this is vaccine research where recent blood collections supported the development of the COVID-19 vaccines. Donations are aiding in the research to help find vaccines, treatments and cures that can one day improve the lives of others.

Long-term donors sometimes suggest to their friends and family that they become donors as well. If you know anyone who donates regularly, perhaps you can tag along to one of their appointments to see if it's right for you.

The main goal, of course, remains helping others in need.
Bonus Perk: Reminding Yourself How Amazing You Are!

Lastly, making the choice to be a long-term blood donor can change the way you see yourself, for the better. As a donor, you will physically help sustain the lives and wellness of other people, which is an amazing thing! Your donations aid scientists to help patients in need of medical advances, as well as bringing joy to their loved ones because you chose to give. Additionally, a single donor can be partly responsible for new therapeutics and medical treatments that will help countless people in the future. It's an incredible feeling to realize how empowered we are to help make the world a better place, just by choosing to give a little bit of ourselves away for the greater good.
Sign up to donate today or contact us at +44 203 608 6260 to learn more.